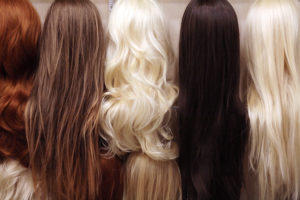 When you're ready for your very first wig or an addition to your current wig wardrobe, there are many ways to go about selecting the right wig for you. You'll want to first figure out if a synthetic hair wig or human hair wig is best, then decide on a cap style, like monofilament or lace front. Next comes the fun part – choosing the style of your new look. Often the style that you look for is one that works best with your lifestyle. And often the best way to start is choosing wigs by length.
Short and Sassy or Long and Flowing?
Your activity level and lifestyle will be a main driver in the wigs you choose. An active person who doesn't want to spend a lot of time getting ready may lean toward a short synthetic hair wig. Some of these wigs are known as "shake and go" because they can be word virtually right out of the package with very little maintenance needed. If you want longer lengths, a lace front wig will give you the option of pulling the hair away from your face while still maintaining a natural look. This includes ponytails for more active individuals who still want long locks. It's important to keep in mind that shorter hair may be harder to pull back, if that is how you like to wear your hair. And if you're not used to long hair, the extra volume can take some time to learn how to style and protect.
For a fun experience trying on and choosing wigs by length, call Wig-A-Do today for an appointment at (856) 235-3534. Or stop in and see us in our Mount Laurel boutique. We're conveniently located in the Bank of America Plaza off of Route 38. Our professional stylists have experience helping customers find the right wig style, color and length that suits them perfectly.