If you've ever worn a traditional synthetic wig, you are familiar with both the pros and the cons. Yes, it's more affordable, needs very little maintenance and can look quite similar to natural hair.
But then you are somewhat limited in synthetic wig styling options and you have to stay away from heat, like that from an oven or traditional styling tools. That was until the introduction of heat-friendly synthetic wigs!
Thanks to these innovative materials, you can opt for an affordable, low-maintenance wig that offers some more variety in styling without the same dangers of singeing off your favorite hair.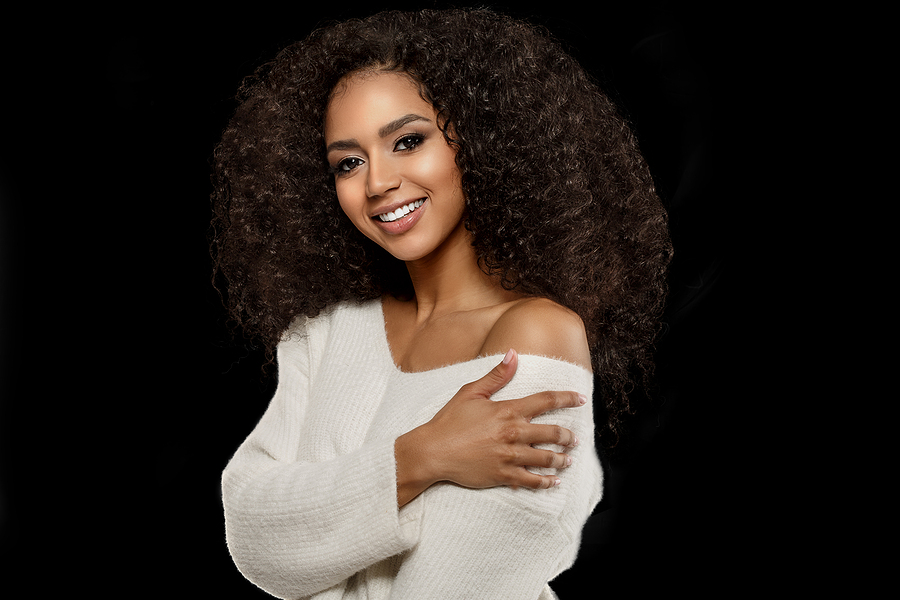 So What Happens When You Heat Synthetic Wigs?
To understand why synthetic wigs don't always stand up to heat, you need to consider the science behind the wig materials themselves.
Synthetic wigs are typically made out of plastic or acrylic materials. These materials are often heated during processing to achieve a particular shape. If you own a plastic lawn chair its shape was likely achieved by heating plastic shapes and bending them while they were warm and pliable.
The same goes for synthetic wigs. Heat is how they are initially styled in the factory under careful methods. If you were to try to reheat and style these same wigs with your own tools at home there is a good chance you may overheat and melt them before getting a chance to bend them into position.
With heat-friendly synthetic wigs, more durable fibers are less likely to melt during the heating process but still rely on the pliability caused by heat to achieve a new style.
These Wigs Can Take the Heat
Manufacturers have recently developed synthetic hair fibers that now make a heat-friendly synthetic wig able to withstand the heat of styling tools. While the hair fibers are not 100% heat resistant (and neither is natural hair), the heat-friendly fibers can be curled with a curling iron or ironed straight with a flat iron.
These wigs now offer the wearers many of the same styling options of their own natural hair or human hair wigs. It's important to note that the style is often "baked" into the synthetic fibers, so the look will hold until the hair is washed or heat-styled in a different way.
As with any style of wig, it's important to use products and tools made especially for wigs to lengthen life and uphold the condition of the wig. Shampoo, conditioner, brushes, and even heat tools are made specifically for wigs and should be used whenever possible.
Low-Heat Tools for Wigs
Some heat styling tools can safely be used on synthetic wigs if the temperature gets low enough. Curling wands, hair straighteners, and blow-dryers should all be used on their low settings to preserve the quality of the wig.
Heat-friendly wigs can take temperatures up to 240-350 degrees Fahrenheit when introducing a new style. This is useful for curling or straightening. Things like blow dryers can go up to 350 degrees safely, but just as with real hair, you should constantly check for overheating.
Look specifically for curling wands, straighteners, crimpers, and dryers with temperature settings to have more control when styling your synthetic wig.
How to Heat Style Heat-Friendly Wigs
When styling heat-friendly synthetic wigs, keep in mind that the new style takes place as the pliable plastic cools and hardens into shape. This is the opposite of natural hair which changes shape during heating. Support curled synthetic fibers with your hand as they cool to maintain shape. Alternatively, pin in place while continuing to style the rest of the wig.
Heat protectant products can be used on synthetic hair to prevent burning just like natural hair. Consult your wig boutique experts about which products work best and are easily cleaned from synthetic hair.
Changing It Up with Professional Styling
Even if you have purchased a heat-friendly wig, you may not feel confident doing big style changes on it. Take advantage of professional styling at Wig-A-Do to add some curls or opt for straightening. We have the experience of stylists with salon-quality, wig-friendly tools that can help you achieve the look you want.
Just like booking a hair appointment for your natural hair, you can book a salon appointment for your wig. We offer multi-step processes including a wash, style, and dry so that your wig is treated to the complete styling experience. Leave with a brand new 'do thanks to our professionals' styling options.
Interested in trying a heat-friendly synthetic wig, or checking out all of our options for hairpieces and accessories? Stop by Wig-A-Do in Mount Laurel. We're conveniently located in the Bank of America Plaza at Highway 38 and Larchmont Boulevard. Call 856-235-3534 to schedule an appointment or just drop by to browse our wide selection of heat-friendly wigs, human hair wigs, and more!